Rener
---
Rener came to New York City from Haiti with a love of language in his heart, plus Creole and Spanish flowing from his tongue. As a lover of all languages, Rener has made it his mission to become proficient in as many languages as he can. He completed the Rosetta Stone language course in English with high scores. This has allowed him to become more skillful with the English language and successfully add the completion to his accomplishments. Completing the English language course has brought him the comfort to face any conversation and the confidence for any interview.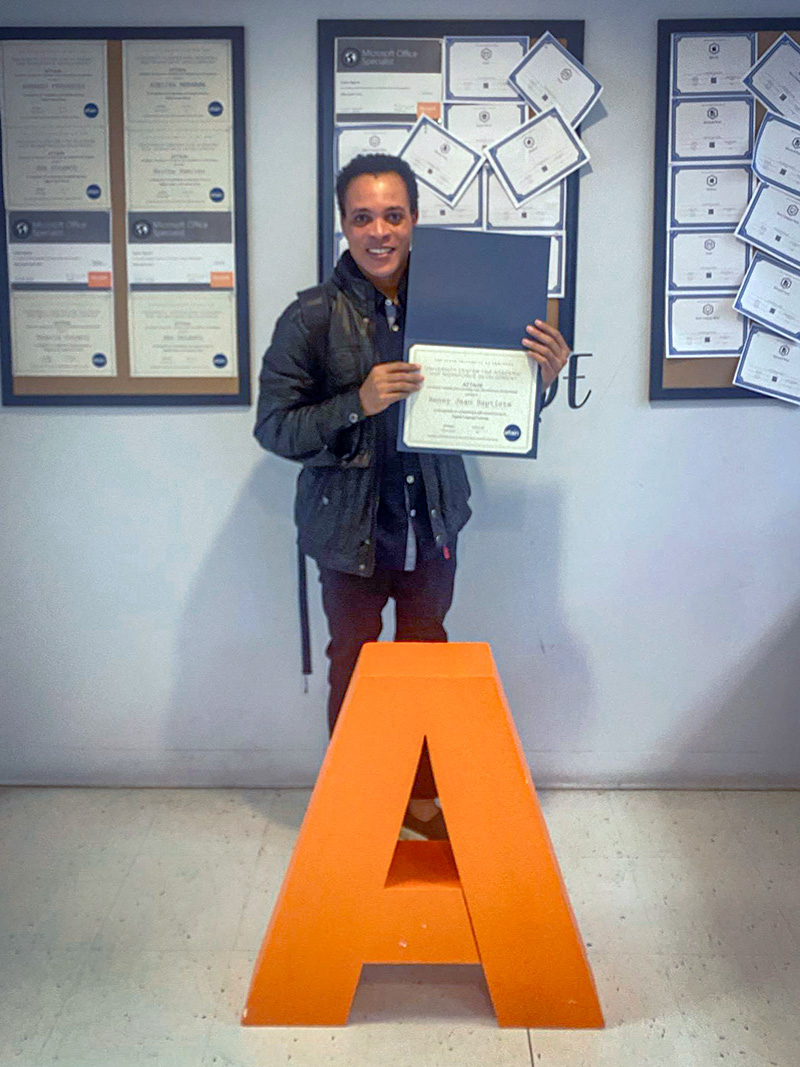 Rener at Armory ATTAIN Lab.
Rener has now embarked on his next language journey, pursuing a course in French. Bonne chance, Rener!
Reflecting on his learning experience, Rener stated, "I enjoy learning here because the environment is peaceful. I am surrounded by people who share my focus on achieving goals, and I am consistently encouraged and pushed by my lab coordinator. All of this equates to love for me."
Gleisis Salazar
---
Gleisis Salazar arrived from Cuba a little over a year ago looking for a path to continue her professional growth. With the help of Digital Navigator Alba Diaz and the Central New York Digital Empowerment program, she was introduced to Google suite and eventually referred to the Syracuse ATTAIN Lab where she began working on her Microsoft Office certifications. "Even without being 100% fluent in English, I have been able to take these courses that have helped me improve and incorporate more vocabulary into my language learning."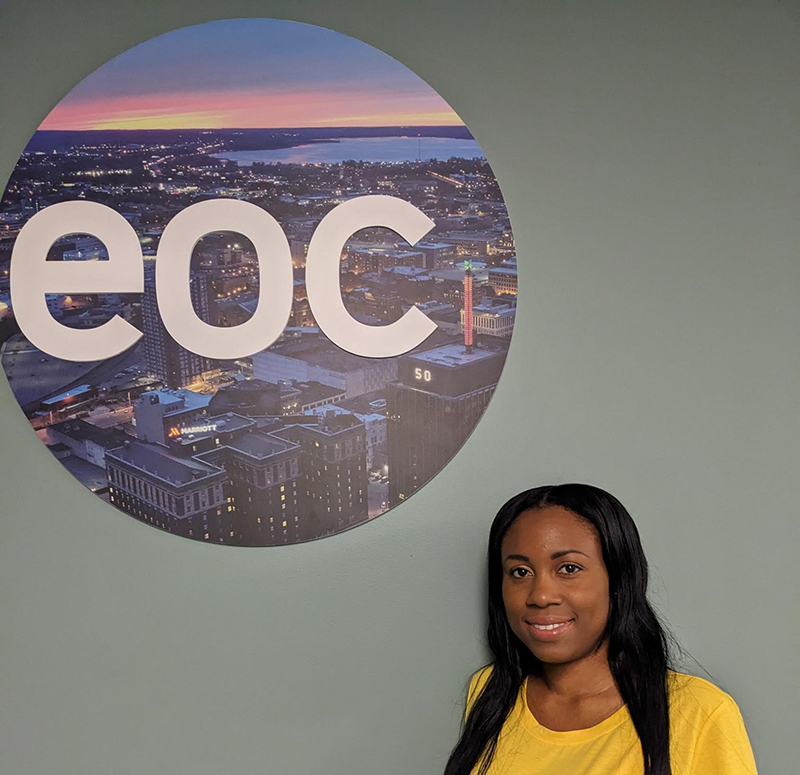 Gleisis Salazar at Syracuse EOC ATTAIN Lab.
The first certification exam was challenging, but Gleisis persevered and, after a few tries, she received her certification in Microsoft Word. "This certificate has been the beginning of everything I want to achieve in my life, and it is a driving force that demonstrates to myself that, with determination and discipline, everything can be achieved."

She is very grateful for the opportunities and support provided by the ATTAIN lab. "I feel that the ATTAIN programs work perfectly. They are organized, and they analyze the students' needs with the purpose of achieving their goals. From the moment I met Cody Maggi, she became a source of positive energy for me with her enthusiasm and ability to motivate me to reach my goals. Matt [Steding] also helped me anytime I had a question, he was very kind, patient, and knowledgeable in Microsoft Word training."

Gleisis has now begun training for her Microsoft Excel certification with the eventual goal of pursuing a career in public relations and marketing.
Yuying Lei
---
Yuying Lei's experience with the ATTAIN Lab is an example of the program's invaluable support for professional preparation. ATTAIN (Advanced Technology Training and Information Networking)—a partnership with the State University of New York located in Henry Street's Education Services building—provides a wide range of online learning courses ranging from Microsoft Office certification to learning a new language.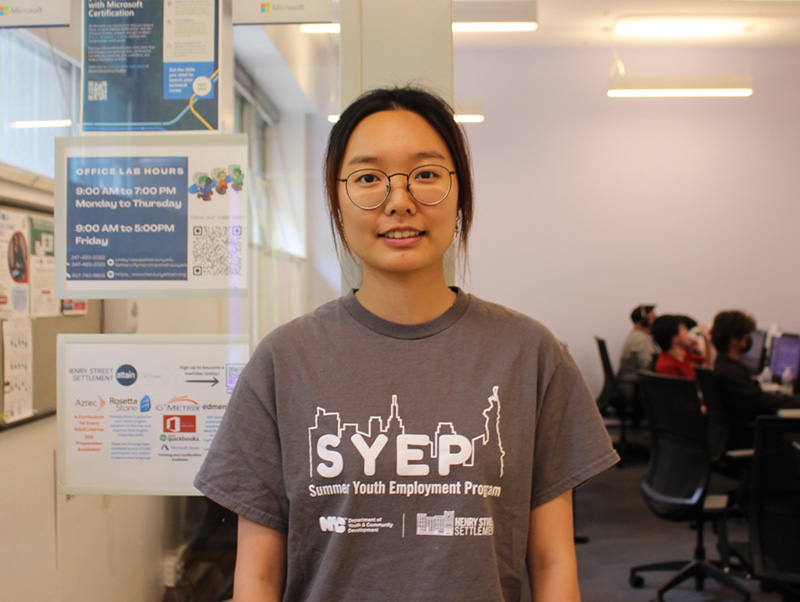 Yuying Lei learned Microsoft computer skills through a paid career-development opportunity at Henry Street's ATTAIN Lab.
As a college student majoring in business management with a marketing concentration, learning the fundamentals of systems like Excel is crucial for Yuying, 20. "These lessons taught in the ATTAIN Lab would cost me $200 or more if I took it somewhere else."
As a non-native English speaker, Yuying often struggles to reach out for help because of the communication barriers she faces. But at the ATTAIN Lab, she says the instructors, Lesley Rojas and Nathan O'Flynn Pruitt, provide personal assistance and guidance.
Alba Diaz
---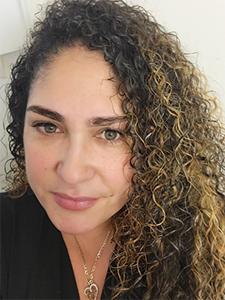 Alba Diaz came to ATTAIN with no experience in computer coding/IT, but a strong desire to enter the field and find a lifelong career. She had previously worked in sales/customer service and felt she was capable of more and needed to find a more stable job that paid a living wage.
"After deciding it was time for a career change, I went to the Syracuse Northeast Community Center and was referred to the Syracuse EOC ATTAIN Lab center where I was introduced to Cody Maggi. She did an excellent job in providing assistance and introducing me to the programs and services available to me," said ATTAIN student, Alba Diaz.
Alba started her training in ATTAIN software Edmentum to see if the coding field was a good fit. Alba completed Coding 1a: Intro to Programming, Cybersecurity 1a: Foundations, and PLATO Course CompTIA A+220-1002.
Alba then realized that she had the skill and passion for this industry and was excited to continue her journey to finding a job in the tech industry.
Following the completion of these courses, Alba passed her Microsoft Certified Fundamentals – Azure 900 exam and is currently working on Azure Data Fundamentals.
"Cody assisted me while taking courses and obtaining certifications and I became very interested in the coding industry, leading me to apply to Careers in Code 24-week coding and technology training program," said Alba.
Careers in Code is very competitive and the skills gained through the ATTAIN lab highly influenced Alba as a selected student.
Alba is gearing up to graduate from Syracuse Careers in Code training program and is working on a capstone project to help the community through the use of technology.
"I am actively working on my capstone based on access to Syracuse food pantries. I'm creating a website that will provide information about local food pantries available, their hours and requirements for assistance, thus providing the knowledge and information to the people in need of these services."
"I am using these resources available to our community in search of a career that I can enjoy and be able to earn a living wage," said Alba.
Olga Urrego Earns Certifications Furthering Technical Expertise
---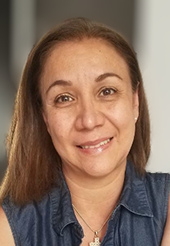 In 2015, Olga Urrego left her hometown of Medellin City, Colombia to join her husband in the U.S. "I was an economist in my country and able to reach my professional and career goals by working hard," said the ATTAIN Lab student. "Yet, I felt the need to make a change. I needed something more. That's when I made the decision to take a leap of faith and come to the U.S. – a leap of faith that meant leaving behind my family, work and friends to begin a new chapter of my life."
When Urrego first arrived, she knew that in order to continue her career goal as an economist, she would need to improve her English language skills. A year later, she enrolled in an English program at LaGuardia Community College. "Learning a new language was very difficult, but I was determined."
During the fall of 2019, Urrego enrolled in Borough of Manhattan Community College's Integrated English Literacy and Civics Education (IELCE). She was then referred to the Manhattan EOC ATTAIN Lab in 2020 where she received certifications in Word, Excel & PowerPoint within the Microsoft® Office Specialist program. Three months later, she received her Quickbooks® certification. "During the pandemic, I had quite a few challenges that could have prevented me from achieving my goals, including traveling to Colombia and getting detained while tending to my mother's health concerns. But I never let those obstacles stop me."
That same tenacity is echoed in the voice of ATTAIN Lab Technology Coordinator, Ashish Satyabhashak, when describing his student. "Olga never let her challenges with the English language deter her from achieving goals," he said. "She was able to receive her certifications with determination – she never quit."
Urrego says the support she received was undeniable. "Mr. Ashish was incredibly encouraging and truly wanted me to succeed, so I did," she says.
When asked about advice for students, Urrego says, "I recommend that students make the most of the opportunities offered in this country, especially in New York City. There are so many free resources and programs to improve our skills and competencies to access a good job. And above all, do not be afraid to ask for help."
Urrego looks forward towards her next goal – to complete her Outlook certification. "Getting it will help me with managing my clients and contacts at New York Life Insurance Company where I now work as an Insurance Specialist for the Latino Market."
Raquel Richardson
---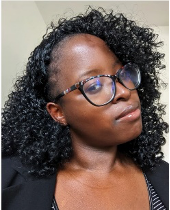 "I've always wanted to further my education, so I immediately enrolled in college," said Raquel Richardson, former Manhattan EOC Electronic Health Records and ATTAIN Lab student. "Unfortunately, my life was challenging and full of hurdles, including various points of homelessness and domestic abuse." These major factors deterred Richardson from completing her educational goal of attending and graduating from college.
To support herself, Richardson held numerous jobs, but they required little to no skills and no room for advancement. "I was sick and tired of doing meaningless work that led to nothing," she said. "I knew I wanted to add value to wherever my next place of employment would be, and I was determined to secure something that paid more than minimum wage, so I started looking for other opportunities."
Months later, while at work, Richardson discovered an ad on Instagram for the Manhattan EOC's free Electronic Health Records program. "I was feeling hopeless and depressed about my situation and instability at the time," she said. "Then I saw the ad. I knew it was a sign because of the timing and the fact I was ready for change." In fall 2021, Richardson applied and enrolled in the EHR program.
"The EHR program made sense to me," she said. "Previously, I worked for United Healthcare and a local hospital in their medical records department. My skills were transferrable, and I wanted to learn more about patient health, which is key to becoming a nutritionist – my goal."
In December 2021, Richardson completed the program and earned an EHR Specialist certification. "I was happy and shocked all at once because the classes were difficult," she said. "But I have to say that my instructor, advisors and ATTAIN Lab Manager were beyond supportive, encouraging, and most importantly, available. The main benefits for enrolling – besides the ease of access – were the valuable skills I was taught."
Life's Opportunities
---
During the spring of 2019, Belinda Jackson attended a job fair hosted by Bronx Riverside Park. "I was excited about meeting various employers and getting hired," she said. "Yet, as I skimmed through a flyer about the Manhattan EOC's free programs and certifications, I knew it was an opportunity to apply. I also knew that I needed to upgrade my computer skills."
As luck would have it, a few months later, Belinda enrolled as an ATTAIN Lab student and reintroduced herself to student life. "I've been out of school for a number of years so going back to school was an adjustment," she said. "The experience was a good one. I was encouraged by Mr. Ashish (Satyabhashak) in the ATTAIN Lab to move forward with getting certified, so I started with Microsoft® Word." 
Belinda was committed to accomplishing her goal and persevered – throughout the pandemic of 2020. So, in the fall of 2021, her dedication paid off. She received her certification in Microsoft Office Suite. Two months later, she received her Quickbooks® certification.
Today, Belinda credits the ATTAIN Lab for her certifications which have equipped her with the skills to obtain employment as a Medical Records Specialist at NewYork-Presbyterian / Weill Cornell Medical Center. "I use Outlook and Microsoft Word on a daily basis in my current position," she said. "Getting certified benefitted me."
"The advice I would give is to go ahead and enroll in this program," she said. "It's free and takes commitment but, in the long run, it can only elevate you."
Luisa Murillo Earns Multiple Certifications in Preparation to Continue her Postsecondary Studies
---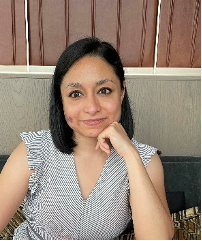 "Technology is the wave of the future, so during the pandemic I embraced the challenge of learning something I have absolutely no background in," said Luisa Murillo, ATTAIN Lab student. "Technology is everywhere."
In 2015, when Luisa and her husband first arrived in the United States, her English was limited. "My only experience was with writing a few documents to complete my college degree, so I searched for English classes," she said. "The New York Public Library offered a class, so I participated, and then needed more of a challenge, so when a friend told me about Borough of Manhattan Community College's Integrated English Literacy and Civics Education (IELCE) program, a few years later, I enrolled. My English significantly improved."
During the fall of 2019, Luisa was referred to the Manhattan EOC's ATTAIN Lab by a BMCC instructor. "I wanted to learn more about Technology, but I had no experience in that area – my background is in Business Administration and Customer Service, but I knew it was an opportunity."
In a matter of months after enrolling, Luisa received her certifications in Microsoft® Office Suite, Microsoft 365 Fundamentals and QuickBooks®. "The program was well organized and close to home," she said. "That was key for me. In addition, Mr. Ashish (Satyabhashak) was the cheerleader I needed to keep me motivated as I studied to better understand cloud computing. He has so much experience."
"This program is a great opportunity to grow and learn," she said. "Many professionals are there to support you with their knowledge and the tools you need. I also believe that if you think you're too old to return to school, you'll discover that age is not an obstacle. In the end, you'll be proud of what you've achieved."
Luisa is currently pursuing her master's degree in Information Technology Administration at Universidad Tecmilenio (UTM) online. She says that with her new Cloud Computing skills, she now has a clear perspective on storing and accessing data and programs over the internet. She looks forward to earning a certification in Azure Fundamentals, a cloud computing Microsoft service.
"It doesn't matter where I go or what field I enter, one thing I'm certain of is that technology will always be at the forefront," she says emphatically.
Youhong Xie Earns Certifications Furthering Technical Expertise
---
From an early age, Youhong (Vivian) Xie, ATTAIN Lab student and Microsoft® 365 Fundamentals and QuickBooks® certification recipient, had a goal of working in the healthcare industry. "As a child growing up in Guangdong, China, I was often sick," she said. "I knew I wanted to have a career working either directly or indirectly with patients."
In 2014, Youhong and her husband left China and immigrated to the United States. To improve her English, in 2020, Youhong enrolled in Borough of Manhattan Community College's Integrated English Literacy and Civics Education (IELCE) program, where adults gain English language skills alongside additional education. From this program, she received the encouragement and reassurance she needed to progress. "English is not easy, but the support I received from my instructors was invaluable," she said. "In fact, because of my background as an IT Engineer in China, my instructors suggested that I enroll in the Manhattan EOC's ATTAIN Lab to get certified in one of the Microsoft platforms."
During the summer of 2021, Youhong enrolled in the Manhattan EOC's ATTAIN Lab and received her training in Microsoft 365 Fundamentals to truly equip her with fully understanding of cloud computing. Two months later, she received her Microsoft 365 Fundamentals certification.
"Because of the ATTAIN Lab's flexible, convenient online classes, I saved time by not commuting," she said. "As an engineer, I am quite knowledgeable about software applications, but after receiving my certifications, I feel more confident in my field and now have a balance between software and hardware applications."
"Youhong is an excellent learner," said Ashish Satyabhashak, Lab Technology Coordinator. "She was eager to receive information to improve her skills and finished all five Microsoft Office Specialist (MOS) certifications as well as QuickBooks in a matter of months."
Youhong's outlook is bright, and she looks forward to her next step – completing her certification in Azure Fundamentals, a cloud computing service operated by Microsoft for application management. "In a few years, everything will be cloud-based so this puts me in a great position for employment. I look forward to accomplishing my educational and healthcare career goals and furthering my technical expertise."